Discover Sailing Day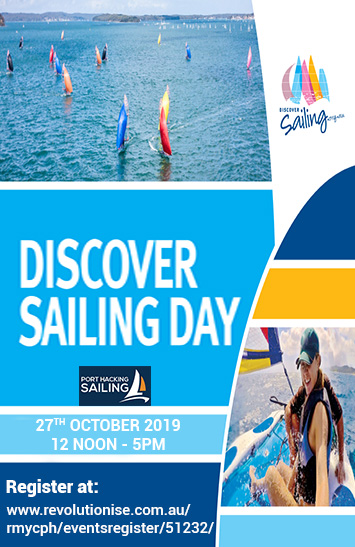 Port Hacking Sailing is proud to join Australian Sailing and fellow yacht & sailing clubs nationwide to offer a day for everyone to "Discover Sailing"
Our Discover Sailing Day is designed to show members of the community just how much fun, how safe and how affordable sailing can be. It is a great way to find out if you would like to learn more about sailing, develop your skills and take up sailing as a sport or pastime.
We welcome you to our Club to enjoy a new activity, see our Shire from a different angle, join us for a bite to eat and to socialise with other fun-loving Shire residents!
As you will be sailing on a keelboat/yacht from 20ft (6m) to 50ft (15m) with an experienced crew we cannot cater for children under 18 years of age due to life jacket and parental/guardian requirements.
We provide the boats & safety equipment, along with a light lunch – all you have to do is wear comfortable clothes & enclosed non-marking shoes, bring a hat, some sunscreen and bucket loads of enthusiasm!
A dedicated host will welcome you to the Club, answer any questions about sailing and ensure you have an enjoyable and safe day out.

We highly recommend that you register online in advance to secure your spot!
Many thanks, James Morgan (0468 495 848)
NZ America's Cup Cruise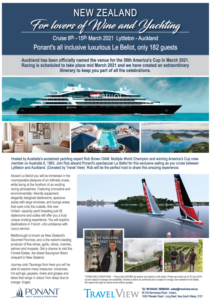 My name is Olivia and I'm the Publicist over at TravelView in Avalon. I hope you're so well.
I just wanted to get in touch with some exciting news about the private charter to Auckland we're doing aboard Ponant's new Le Bellot vessel to coincide with the 36th America's Cup.
We're still working on a brochure for the cruise, but for now I've attached a flyer to give you a little more information. We've already got a few directors and Commodores booked, so we're going down the 'yachtie' path. Could be a great one to let your members know about soon, as we've already sold out of deluxe staterooms.
I'd love to know how we could work together and get the word out! I'll also get the brochure over to you as soon as it's ready to go.
Please get in touch if you have any questions, I'd be happy to give you a call whenever suits you.
Thank you! Olivia
Olivia Mackinnon
Publicist    
The greatest compliment you can give me, is the referral of your friends, family and business associates. Thank you for your support.
www.travelview.net.au
TravelView
36 Old Barrenjoey Road, Avalon NSW 2107 Tel: 02 9918 4444
Email: olivia@travelview.net.au