Crew Registration
New Crew wishing to sail on racing yachts, please fill in the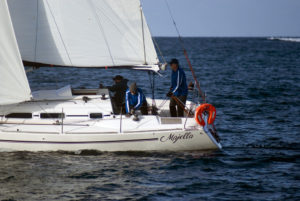 form.
You will then be placed on the list below. Sailing experience is not necessary, just a desire to discover.
You will also be contacted by David who will be in touch with skippers to get you placed as quickly as possible.
Initially it will be to gain some experience on a yacht, so you may race on a series of boats until we can place you permanently.
When you have been place, please contact David so we can update the list.
Skippers looking for Crew
Contact David Cartmer on: 0407 367 978 or make direct contact from the chart below.
Feedback will be added to your entry to trace your progress.
Active Crew Listing
NAME
DOB
Contact (Mob/email)
Available Days
Background
Applied: (yyyy-mm)
Progress/status/source
Sonia
JONES
17/05/84
0450 160 227
Soniajones84@gmail.com
Wednesday
Basic knowledge. Love the ocean
2019-10
My wife told me!
Bernadette
JONES
17/06/80
0410 657 613
bernadette_m_hickey@yahoo.co.uk
Wednesday
I have sailed to Hamilton Island with but not experienced. Love the ocean
2019-10
I have done it before with you guys
Aykut
ACARBAY
03/03/1977
0421 192 099
aacarbay@hotmail.com
Wednesday, Sundays
Basic cruising experience, but no racing experience
2019-10
Online
Jeffrey
ANDREWS
22/8/1965
0452 398 494
jeffandrews246@gmail.com
Sundays
Sailing for 46 years. Pelicans, Moths, Etchells, Offshore. Proficient in all positions. Currently running main on a Sydney 32. Have been main hand on Fractionals for 30 odd years.
2019-10
Online
JB called - next week
Jane
WYNN-JONES
2/2/1963
0413 763 334
mjwynnjones@gmail.com
Sundays
Sailed on an XYacht in Pittwater for the last 2 years and sailed VJ's in the olden days. Looking for something closer to home. I love it - Sailed inshore and offshore - mid deck. Keen, fit, reliable and fun.

2019-09
Online
JB called
Paul
SEAGER
26/10/1967
0409 676 677
pseags@gmail.com
Sundays
Enjoyed sailing since a boy. ~20 years sailing 40 footers both inshore & offshore including Hobart, Southport, Short Offshore, etc thru cyca and mhyc. My usual positions are mast (foredeck) or trimming also happy to sit on the rail and call the wind is that's what's required.
Have recently moved to Cronulla and VERY KEEN to commit to a local crew who races competitively and has FUN. I look forward to becoming a full, active member of the club.

2019-08
Research
JB called
Rod
PULBROOK
29/06/1966
0408 273 624
rod@transamsolutions.com.au
Wednesdays, Sundays
Racing in Leg 5 of the Clipper Round the World Race early next year. Have completed Clipper training which includes RYA Competent Crew, Sea Survival and Offshore Safety. Looking to hone sailing skills and learn more about optimising sail trim.
2019-07
Website
Kurt
DICKSON
24/06/2000
0421 771 213
kurt.dickson@icloud.com
Wednesdays, Sundays
Inexperienced, would love to learn how to sail.
2019-07
sutherlandshireaustralia.com.au/food-and-wine/clubs-and-pubs/
Brandon
SUGDEN
15/11/1999
0411 570 034
beejon956@hotmail.com
Wednesdays, Sundays
I do not have any sailing experience but i do have boating experience.
2019-07
Friend Kurt
Matthew
SCHOFIELD
08/08/1987
0434 167 696
mjschofield@outlook.com
Wednesdays, Sundays
Some experience only basic. Live in Ewos Parade
2019/06
RMYC Member
Toby
FRANCE
09/11/1989
0401925599
wtfrance@yahoo.co.uk
Wednesdays, Sundays
Recently emigrated from the UK with my young family and looking to take up sailing again. Have some previous experience including RYA competent crew but have not sailed in at least 8 years. Looking for any opportunity to get involved.
2019/05
google seach
Sally
LI
27/05/1969
0425 234 211
psws@tpg.com.au
Sundays
Inexperienced, very interested to learn to sail.
2019/05
Friend told
Jeanette SORRENTI
24/07/1961
0425 211 527
jean24_hya25@hotmail.com
parents build small yacht and crew up with sailing dingy sundays. Bought 38ft in 1984 and spent 10 months sailing up to Cairns and back. Crossed pacific 1985 delivering yacht and then working on 57ft Tahiti and Marquesas. Tried again to cross Atlantic in 1991 but got drawn away to land for far too long. Have a strong want to sail again and learn again from a local skipper.
2019-03
Facebook
Scott and Jackson
GRECK
11/07/1972
0439 393 668
wildly.delicious.australia@gmail.com
Sunday
Looking to get a sailing lesson on a vessel for myself and 13yr old son. Need lessons.
2018-12
Sailing webpage

Jenny
DRAGANIC
11/10/1970
0413 027 037
jennydraganic@optusnet.com.au
Wednesday, Sunday
Sailed on Yknot on Discover Sailing Day. (inexperienced)
(2018-12)
from DSD
Carole
REED
20/02/1972
0448 381 366
Carolereeduk@gmail.com
Wednesdy, Sunday
Completed level 1 Aussea course. Married to John Reed. Would like to crew together if possible. (Inexperienced)
(2018-12) Discover Sailing Day. Sailing on Airstream (Sundays)
Michael
BAINBRIDGE
01/01/1900
0411 619 687
bainbrmc@yahoo.com
Wednesday, Sunday
Sailed on Yknot (Inexperienced)
(2018-11) Word of mouth
Paula
SINCLAIR
15/01/2071
0413 994 921
Plsinclair@optusnet.com.au
Wednesday, Sunday
Sailed as teenager and learn the skills of racing, am committed and work as a team member. Have navigation skills, and roping experience. (Moderate). Bought Impulsive.
(2018-11) Source-Internet. Sailed Sunday on L'attitude
Scott
JONES
13/06/1972
0409 507 706
ttocsenoj@gmail.com
Sunday
Minimal experience but willing to learn. Sailing crew member. (Moderate)

(2018-11) DSD, Leader
Placed Sweet Chariot
Brett
JONES
29/01/1971
0435 812 177
brett.jones@bullseyecx.com.au
Wednesdays, Sundays
Trained with AusSea. I am keen to get more experience. Work hours are flexible. I am close to the RMYC, so can join at short notice. (Moderate)
(2018-11) Social member for 4 years.
DSD on Kite Runner
Simon
ROACH

0417 664 994

Sunday
Sailed on L'attitude (Inexperienced)
(2018-11)
Elizabeth
DREDGE
16/03/1977
0428 830 102
lizziemckenna@hotmail.com
Wednesday, Sunday
I have no sailing experience however I am very enthusiastic and have been keen to learn to sail for a very long time. I'm a Paramedic, so available some Wednesday's and Sundays. (Inexperienced)
(2018-11) DSD
Tony
DEAR
11/03/1954
0427 174 988
t.dear@bigpond.com
Sundays

2 x Lord Howe Island, Southport LHI, Sydney
Hamilton island cup, Airlie to Southport, numerous times, Southport Coffs, CYC twilight. (Experienced)
(2018-11) Sailed on Yknot and Steadfast
John
READ
N/A

0402 973 847
johnread@outlook.com.au
Sunday
New to sailing, attended the discover sailing day and I am enrolled on the AusSea course. (Inexperienced)
(2018-11). From DSD Sailing on Airstream (Sundays).
Sonja
MILINKOVIC
08/03/1965

0432 230 849
sonjamilinkovic@yahoo.com.au
Wednesday Sunday
Limited experience, have sailed casually over the years. Would like to enroll in the AUSSEA course next year. (Moderate)
(2018/11) DSD, Pied Piper
Matthew
WAUGH
28/03/1992
0433 497 147
m.waugh92@gmail.com
Wednesday

Experience on a laser and windsurfing in a lake for a number of years. Am interested in improving my skills. (Moderate)
(2018/11)

Carol
SMITH
30/03/1944
0403 773 940
c_smith6@optusnet.com.au
Wednesdays
15 years sailing and racing Comass Careel 22ft trailer sailer. Sailing holidays on 45 ft Beneteau. (Experienced)
(2018-11)
From DSD. Sailing Wed. 7/11 with Yknot
Steven
IDE
29/10/1960
0438 713 041
steveide@bigpond.com
Wednesdays, Sundays
Limited experience, I have sailed causally over the years. Currently training through AUSSEA. Sailing member.
(01/2018-08) Confirmed on Pied Piper 7/11.
Patrick
HENSON
23/01/1991
0425287698
patrick@rhcs.net.au
Wednesdays, Sundays
Former club tender driver. (Inexperienced)
(02/2018-08)
Chinook, Yknot
Terry
BOURKE
12/12/1949
0423 559 667
bouke.terence@gmail.com
Wednesdays
Former boat owner and experienced sailor. (experienced)
(03/2018-10)
Confirmed on Sweet Chariot 7/11
Damian
DENNETT
06.05/1971
0468 412 155
damaindennett@gmail.com
Wednesdays 28th Nov.
Sundays 18th & 25th Nov
Trained through AUSSEA sailing school. Competed in J24 regatta. (Moderate)
(04/2018-09)
Confirmed on Majella 21/11 & 28/11.
David
DETORES

0421 719 154

Wednesdays
Has sailing experience. (Moderate)
(05/2018-04)
Yknot
Rory
ROXBURGH
25/08/1965
0414 537 895
rory.roxburgh@gmail.com
Wednesdays, Sundays
Experience on Lazers and Darts 18ft inland. Attended Discover Sailing Day 2018. (Moderate)
(06/2018-10) DSD
Sailed with Sweet Chariot
Jed
BROOKS
39 years
0413 358 117
jed_brookes@hotmail.com
?, ?
I have little to no experience, I am a fast learner, a science teacher and physically fit. Could someone please give me a call to discuss any opportunities you may have. (Inexperienced)
(2017-11)
Craig
MESSER
37 years
0406 201 822

Wednesdays
I am new to the area, a 37-year-old guy. I sailed a lot as a young fella but haven't for a lot of years. I was wondering if you could get me on a list to get on as a crew for your mid-week twilights? (Competent sailor)
(2017-12)
Sailed L'attitude..
Milo

0404 875 361

Wednesdays, Sundays
Milo has expressed an interest in Club sailing. Milo has some past sailing experience and relishes the opportunity of getting back into sailing. He lives at Cronulla.
(2018-01) via Bill Gawne
Jenna
HUGES
28 years
0413 871 140
Jenna.hughes511181@gmail.com
?, ?
Hi I am wanting to learn how to sail and a friend who used to do your twi-light races said to ask to be put on the register. Are you able to give me a call? I'm 28 and really eager to learn
(2018-01)
Robert
BEECH
09/07/1955
0499 733 640
robert.beech0@gmail.com
I possess an AYF Day Skipper Certificate. I have been sailing for over 20 +years and for 18 years owned my own TS. I have sailed Pacific 747 Pocket Yacht, Cavalier 36, Roberts 32, Duncanson 36, Catalina 32, Princess 18 (owned). (experienced)
(2018-02)
Pat
BENNETT
19/04/1982
0404 492 989
pat@dimegroup.com.au
Sundays
Keen to sail, have sailing experience. Friends of Chris and Marion sailing on Wild Goose.
(2018-02)
Contacted by JB. Not able to sail as yet due to other committments
Cherie
ORIEL
1969
0429 618 901
tkl1@live.com.au
Sunday
Received crewmanship certificate, sailed regularly on Lake Macquarie. Sailed at BBYC. Usually sailed in spinnaker races on headsail sheets. Interested in learning more. Not precious or sensitive and a quick learner
(2018-04)
Crewed on L'attitude.