Program - Short Haul (Combined Spinnaker/Non-Spinnaker)
Race
Day
Date
Course
Nominal Time
Description
Comment
SH1
Sunday
29-Sep-19
9 (Summer)
12:30 AEST
Bate Bay Passage
Completed NE 13 knots
SH2
Sunday
13-Oct-19
9/10/Alt
13:30 AEDT
Bate Bay Passage
Correction to time in Racing Handbook
SH3
Sunday
3-Nov-19
C-K-E-C-K
13:30 AEDT
Bate Bay Passage
Scratch start - two triangles
SH4
Sunday
17-Nov-19
Alt3 (smmr)
13:30 AEDT
Bate Bay Passage
Completed ESE 20 knots
SH5
Sunday
15-Dec-19
Course 9
13:30 AEDT
Bate Bay Passage
2nd rounding of boat harbor (p).
Christmas break
SH6
Sunday
19-Jan-20
Course 10
13:30 AEDT
Bate Bay Passage
Light S to SSE winds - winter course
SH7
Sunday
2-Feb-20
9/10/Alt
13:30 AEDT
Bate Bay Passage
SH8
Sunday
16-Feb-20
9/10/Alt
13:30 AEDT
Bate Bay Passage
SH9
Sunday
15-Mar-20
9/10/Alt
13:30 AEDT
Bate Bay Passage
SH10
Sunday
29-Mar-20
9/10/Alt
13:30 AEST
Bate Bay Passage
Time corrections to race 6
Some wrong times were used after race 6 mainly by L'attitude and Sweet Chariot who were a second apart. L'attitudes Race Logger didn't record finish, so I added 1 second to Sweet Chariot time for the result after the race. However, L'attitude's correct time could be found latter from the recorded track with time markers, so Sweet Chariots time could also be verified and adjusted.
Note: the time alongside is UTC time.
Organisation
Duty Officer: – John Barter
Duty Skipper: – Brett Parr 2-Feb-2020
Mark P/U: – 1st "E" mark, 2nd "C" mark
Finish GPS Time: – SMS to 0418 253 479
Crew Avl: – Gary Fielder 0419 237 349
Racing Handbook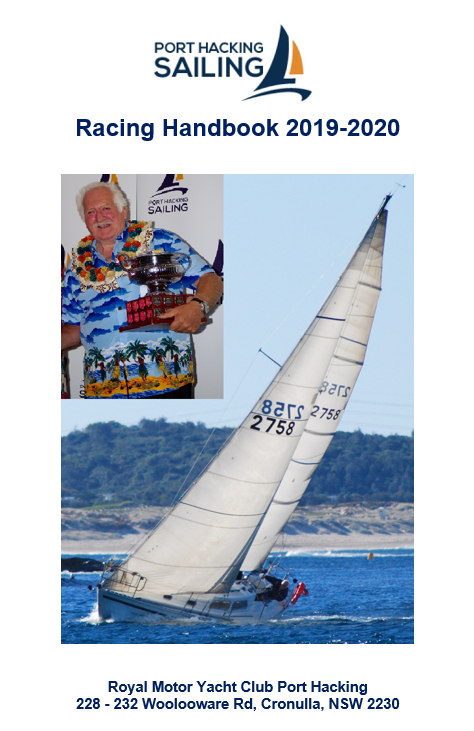 Please carry racing handbook at all times for race instructions and other important emergency information.
Race Logger

If race logger shows "Sent" for SMS do no more. Otherwise you must send to 0418253479 your finish time in 24 hour format as follows; "sail# hh:mm:ss boats-name" asap after finish. Configuration available prior to each race. Race Logger provides an accurate finish time as yacht crossed finish line. It also provides information for GPS rounding. It can also be valuable in protests as it can provide exact course and time for events on the water.
Click for more or for help call 0418 253 479.