Race series in date order
Wednesday Twilight
23/October/2019, Start 5:30 pm.
Race 3 of Newton Property Management series.
Short Haul series
Race 3 - 3/November/2019.
Start 1330. Course - Bate Bay passage.
Combined fleet - Spinnakers optional
Short Ocean series
Race 3 - 1/Dec/2019, Start 1230.
Course 21 (WR-Wattamolla-finish) 18nM or
Course 26 (WR-Marley-Boat Harbour- finish) 20nM
Harbour series
Race 3 - 1/Dec/2019, Start 1330.
Non-Spinnaker race
Entries for 2019-2020 due now
Wednesday Twilight race 9th October 2019
Skippers need to enter online after which you will receive  an invoice by email with payment details.
You are not entered until the entry is paid by EFT or at the front desk and documentation supplied.
In future amounts owing won't be place on members RMYC accounts.
An invoice will be sent by PHS.
RMYC front desk also receive a copy.
Invoices can be paid by EFT or at the front desk.
Discover Sailing Day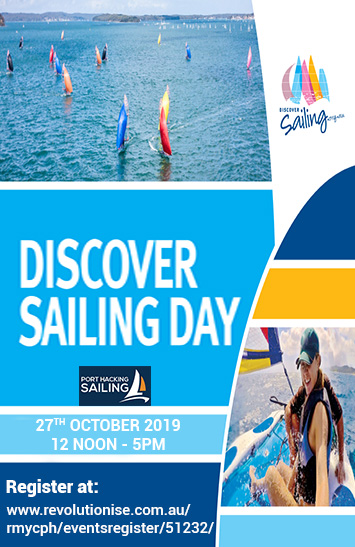 Port Hacking Sailing is proud to join Australian Sailing and fellow yacht & sailing clubs nationwide to offer a day for everyone to "Discover Sailing"
Our Discover Sailing Day is designed to show members of the community just how much fun, how safe and how affordable sailing can be. It is a great way to find out if you would like to learn more about sailing, develop your skills and take up sailing as a sport or pastime.
We welcome you to our Club to enjoy a new activity, see our Shire from a different angle, join us for a bite to eat and to socialise with other fun-loving Shire residents!
As you will be sailing on a keelboat/yacht from 20ft (6m) to 50ft (15m) with an experienced crew we cannot cater for children under 18 years of age due to life jacket and parental/guardian requirements.
We provide the boats & safety equipment, along with a light lunch – all you have to do is wear comfortable clothes & enclosed non-marking shoes, bring a hat, some sunscreen and bucket loads of enthusiasm!
A dedicated host will welcome you to the Club, answer any questions about sailing and ensure you have an enjoyable and safe day out.

We highly recommend that you register online in advance to secure your spot!
Many thanks, James Morgan (0468 495 848)