Racing in Date Order
Wednesday Twi-light
20-March-2019, start 1750
Race 4 "POTENTIAL Plus series"
Short Haul Duty Skipper - Alistair Rowe
Sunday 31-March-2019, Start 1330
Race 10, course TBA (short)
Winter Passage Races
Sunday 5-May-2019, Start 1300
Race 1, Courses 9/10/alt
Join Port Hacking Sailing
Sailing crew who sail more than 3 times in a season need to hold a current ASN.
We encourage new crew to join the RMYC Port Hacking and the Sailing Division.
On joining the RMYC and Sailing Division you will receive your ASN along with the following benefits;
Offer for membership till May 2020.
Personal Accident Insurance
Bar and Food Discounts
Member loyalty points
Car parking and Marina access
Free market appraisal from our Sponsor
$10 off any Uber trip to and from RMYC
Presentation by Lisa Blair
Tuesday 19th March 2019 RMYC 6pm drinks.
Talk by Lisa at 6:30 for 60 minutes with question time. RMYC will provide a special $15 meal.
All are welcome and what a great opportunity to bring sons, daughters,  wives and husbands along to listen to this inspiring young woman.
There will be a $20 collection which goes directly to Lisa to fund her work.
Lisa first discovered boats when she was 22, working as a hostess on a sailing boat in the Whitsundays, yet had sailed around the world by the time she was 27 clocking up over 50,000 nautical miles. By then, she'd already decided her natural step forward would be to go solo and this has seen her add another 20,000 nautical miles to her experience.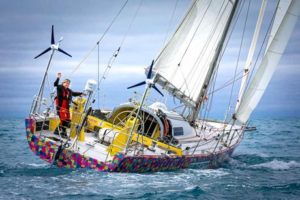 Lisa comments "I now love the solo aspect of sailing and that there's no one else to rely on. If I don't get up and check the instruments or fix what's broken, there's no one else to pick up the slack. For me it's the challenge of keeping both myself, and Climate Action Now together." Biography-Lisa Blair
More: Solo around Antarctica / Solo around Australia
---